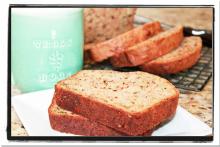 If you have zucchini popping up in your garden, or you're lucky enough to get one from your neighbor or local farmers market, then you'll want to make this yummy zucchini bread.
If you have more zucchini than you need, grate it up, measure it out, place it in freezer bags, and pop it in the freezer. Just remember to label the outside of the bag with the contents, amount, and date, and you'll be all set to make zucchini bread any time of the year!
1/3 cup walnuts
1 large zucchini (1 1/2-cups total grated)
2 tablespoons chia seeds, ground
6 tablespoons cold water
1 1/2 cups unbleached all-purpose flour
1 teaspoon cinnamon
1/2 teaspoon baking powder
1/2 teaspoon baking soda
1/2 teaspoon kosher salt
3/4 cup sugar
1/3 cup vegetable oil
1/4 cup applesauce
1 teaspoon vanilla extract
Preheat the oven to 350°
Generously coat a 9 x 5-inch loaf pan with non-stick cooking spray. Spread the walnuts on a baking sheet and toast in the oven until lightly golden, about 5 to 7 minutes turning once. Cool, then roughly chop, and set aside.
Coarsely grate the zucchini into a bowl. Measure out 1 1/2 cups of grated zucchini. Squeeze out the excess liquid and set it on a clean cloth or paper towels for a few minutes to remove even more moisture. Set aside.
Combine the ground chia seed and six tablespoons of water in a small bowl. Stir until smooth. The mixture will be thick (similar to an egg, but a little thicker). Set this aside.
Whisk the flour, cinnamon, baking powder, baking soda, and salt in a medium-sized bowl.
Beat the sugar, oil, applesauce, vanilla, and chia seed mixture on medium speed in a large mixing bowl. Add the flour mixture and beat on low until combined, then on medium speed for about a minute more. Stir in the zucchini and the nuts until evenly combined.
Pour the batter into the loaf pan.
Bake until a toothpick inserted in the center comes out clean, 50 to 55 minutes. Cool in the pan on a wire rack for 30 minutes.
Remove the bread from the pan and cool completely before slicing.