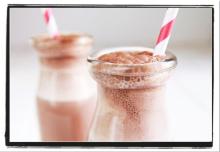 We are Ovaltine lovers from way back. That silky chocolate malted milk drink was one of our favorites at breakfast time.
The problem is that Ovaltine contains whey. So, even mixing it with non-dairy milk doesn't make it vegan-friendly.
However, we have an Ovaltine hack! So if you loved that chocolatey-malted milk drink as much as we did, you're going to love our delicious veganized version!
In a bottle or medium container with a tight-fitting lid, add the following:
16-ounces of chocolate-flavored almond milk, chilled
8-ounces of coconut water, chilled
two ice cubes
Shake vigorously for 30 seconds. Then, discard ice (optional) and pour your delicious malted milk drink into two or three glasses and enjoy!
Yield 24-ounces (2-12 oz. servings OR 3-8oz servings).