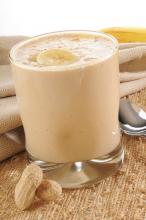 This Nutty 9 to 5 Smoothie is a deliciously great way to start to your 9 to 5 day!
1 cup chilled vanilla almond milk
3 tablespoons natural peanut butter
4 chopped pitted dates, cold or frozen
1 large frozen banana
Pour the almond milk into a blender
and add the peanut butter, dates, and frozen banana.
Blend at high speed until the mixture is smooth and creamy.
Pour into a chilled glass, garnish with a slice of banana, and a light sprinkling of chopped nuts if desired.
Cheers!
Contains
Banana
Milk (non-dairy)
Peanut