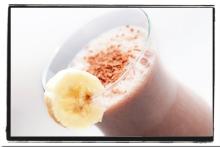 Sometimes life calls for chocolate; smooth, creamy, decadent, and delicious chocolate in a glass. It just does!
1 cup cold non-dairy milk
2 frozen bananas
1 tablespoon unsweetened cocoa powder
1 tablespoon maple syrup or agave sweetener
1 tablespoon natural peanut butter
4 ice cubes
Pour the milk into a blender. Add banana, cocoa powder, maple syrup, peanut butter, and ice cubes.
Blend at high speed for about 60 seconds or until smooth and creamy.
Pour into a chilled glass. Garnish with chocolate shavings, or skewer banana cut-outs, if desired.
Cheers!