Category
Dessert
Sauces, Dips, Dressings & Spreads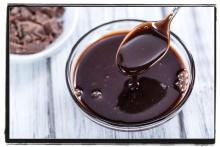 This chocolate sauce is by far the easiest and best darned chocolate sauce you will ever taste. The fact that you made it from scratch is even better!
1 1/2 cups powdered sugar
6 tablespoon unsweetened cocoa powder
pinch of salt
1/2 cup canned coconut milk (mix well before measuring)
1 tablespoon vanilla
In a small saucepan, whisk together powdered sugar, cocoa powder, and salt. Place the pan over medium-high heat, and slowly whisk in the coconut milk.
Continue to cook over medium-high heat, constantly stirring until the mixture is well combined and begins to boil. Reduce heat to low, and whisk in the vanilla. Allow to cook for another minute, then remove from heat.
Transfer chocolate sauce to a small canning jar with a lid if you have one. If not, any heat-proof container will work. You can serve the chocolate sauce warm or cold - it's delicious either way!
Keep refrigerated.