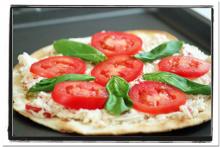 This pizza is a delicious and fun alternative to traditional pizza, and it's super easy to make!
Easy Pizza Sauce:
1 tablespoon extra virgin olive oil
1/8 cup onion, minced
2 large garlic cloves, minced
1 small can of tomato paste
1/2 cup water
½ teaspoon dried oregano
½ teaspoon red pepper flakes
1/4 cup roasted red bell pepper, chopped
7 large fresh basil leaves; 2 finely chopped (reserve 5 per pizza)
salt and pepper
Heat the olive oil in a saucepan over medium heat. Add the onion and sauté until tender. Stir in the garlic and cook for another minute. Add the water and tomato paste and stir until well combined, then stir in the oregano and red pepper flakes. Bring the sauce just to a boil, then lower the heat to medium-low. Continue to cook, occasionally stirring for about 8 to 10 minutes. Stir in the roasted red pepper, chopped basil, and salt and pepper to taste. Remove from heat and set aside.
Cheese Mixture:
½ cup vegan cream cheese
¼ cup vegan parmesan cheese
¼ cup vegan mozzarella cheese
¼ cup roasted red bell pepper, finely chopped
Add a dash of salt and pepper
Stir to combine; mixture should be thick.
To assemble your pizzas, you will need whole wheat tortillas; Roma tomatoes sliced thin, whole basil leaves, and olive oil for drizzling.
Lay the tortilla on a lightly greased baking pan. Spread three to four tablespoons of sauce over the tortilla. Next, spread a layer of cheese evenly over the sauce. The mixture will be thick, so don't worry if it doesn't cover it entirely. Next, add your tomatoes, and place your fresh basil leaves in between the tomato slices. Sprinkle with a little sea salt and black pepper, and drizzle with extra virgin olive oil.
Bake at 400° F for approximately 10 to12 minutes, or until the cheese mixture begins to melt and the tortilla is crisp. Sprinkle with your favorite vegan parmesan cheese, and enjoy!