Category
Sauces, Dips, Dressings & Spreads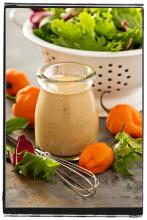 The ever-popular Texas Roadhouse restaurant has a housemade Sweet Italian Dressing that they are known for, but unfortunately, it isn't vegan.
However, we managed to get our hands on the recipe (they published it in a local news article, so it wasn't difficult).
This "veganized" version is delicious! Now, we understand what all the fuss is about!
Warning: This dressing will increase your appetite for salad.
Here's what you need:
Add the following to a medium-sized mixing bowl and mix thoroughly.
3/4 cup apple cider vinegar
1/4 cup granulated sugar
1/2 teaspoon of salt
1 teaspoon garlic powder
2 teaspoons onion powder
1 teaspoon white pepper
1 teaspoon black pepper
Add the following three ingredients to the bowl above and whisk:
1/2 teaspoon dried basil
1/2 teaspoon oregano
1/2 teaspoon fresh minced garlic
Next, add the following two ingredients to the bowl and stir until well combined:
1/3 cup Agave Nectar
1/4 cup yellow mustard
Slowly add 1 and 1/2 cups of canola oil, whisking until there is no separation. Pour the mixture into your favorite 2-cup salad dressing bottle, and drizzle over your favorite greens.
Store in a sealed container - or a convenient salad dressing bottle.
Keep refrigerated and enjoy within 10 to 14 days.