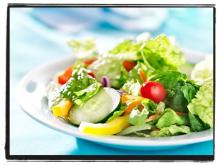 The Perfect Garden Salad contains all the garden vegetables you love! It should include no less than five ingredients, and everything should be fresh, ripe, and bursting with flavor!
The Perfect Garden Salad uses a blend of iceberg and romaine lettuces. The rest is up to you!
Below are some suggestions to help you make your Perfect Garden Salad.
Avocado
Beets
Bell pepper (red, yellow, green, or orange)
Black beans
Broccoli
Carrots
Cauliflower
Celery
Chic Peas
Croutons
Cucumber
Green beans
Kidney beans
Mushrooms
Nuts
Olives
Onion
Peas
Pepperoncini
Radicchio
Radish
Scallions
Sprouts
Sunflower seeds
Tomatoes
Using a large salad bowl, toss your freshly chopped vegetables with both lettuces, and enjoy with your favorite salad dressing for a healthful, hearty, delicious meal!
Garden salads, by their very name, are made up of vegetables from the garden. Adding other foods such as beans, nuts, or seeds is an excellent way to add not only flavor but also fiber and other nutrients. Get creative with the foods you love and add what appeals to you!
Buy organic whenever possible, and wash all vegetables thoroughly to reduce your intake of harmful pesticides.
A garden salad will usually stay fresh for a day or two in the fridge, depending on the ingredients.