Category
Sauces, Dips, Dressings & Spreads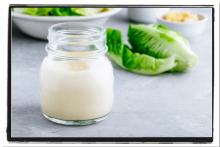 We could drink this straight from the jar. It's that good! When it has to be homemade, this is the recipe you want!
Juice of 2 lemons
2 large garlic cloves, crushed
3 tablespoons of capers packed in brine
1 tablespoon of caper brine from the jar
4 tablespoon Dijon mustard
3 tablespoon vegan Worcestershire sauce
1 tablespoons red wine vinegar
1 1/2 cups vegan mayonnaise
1/4 cup extra-virgin olive oil
1 tablespoon freshly ground black pepper
Place all of the ingredients in a blender and purée until smooth.
The dressing will be ready to use immediately.
Store any unused dressing in an airtight container.
Refrigerate for up to 2 weeks.
This recipe makes 2 1/2 cups of dressing.