Category
Sauces, Dips, Dressings & Spreads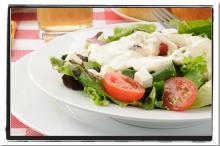 Old Bay Ranch Dressing is the best when you want a gorgeously creamy dressing for your salad, but regular ranch falls short.
It combines the classic flavors of ranch dressing with the delicious flavors that only Old Bay seasoning can deliver.
Get ready to taste perfection!
1 cup Vegenaise
1/2 cup vegan sour cream
The juice of 1/2 to 1 lemon
1 tablespoon Old Bay Seasoning
1 large garlic clove, crushed or finely minced
2 tablespoons finely chopped chives
Whisk all of the above ingredients in a bowl or place them in a salad-dressing-shaker and shake until well blended.
Refrigerate and enjoy within 1 week.