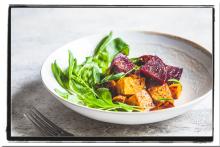 This salad combines the earthiness of roasted beet and sweet potato. And it couldn't be more delicious! The apple cider vinaigrette adds just the right amount of brightness, bringing all the flavors together.
For the Salad
1 roasted beet
1 roasted sweet potato
5 ounces spinach or other fresh greens
apple cider vinaigrette (recipe below)
Preheat the oven to 425°
Add the roasted vegetables to a bowl of chosen greens; we chose spinach. Drizzle with dressing.
For the Apple Cider Vinaigrette
Apple cider vinegar makes a delicious base for this vinaigrette, and it has a multitude of health benefits. Not only is it good for digestion, but it's also good for the skin and immune system.
1/4 cup apple cider vinegar
1 tablespoon Dijon mustard
2 tablespoons pure maple syrup
1/4 cup extra-virgin olive oil
sea salt and freshly ground black pepper to taste
Whisk together the vinegar, mustard, and maple syrup in a mixing bowl. Slowly drizzle in the olive oil, continuing to whisk until well combined—season with salt and pepper.
Optional: Keep this salad simple or make it heartier by adding sliced cucumber, avocado, sprouted green buckwheat, walnuts, etc.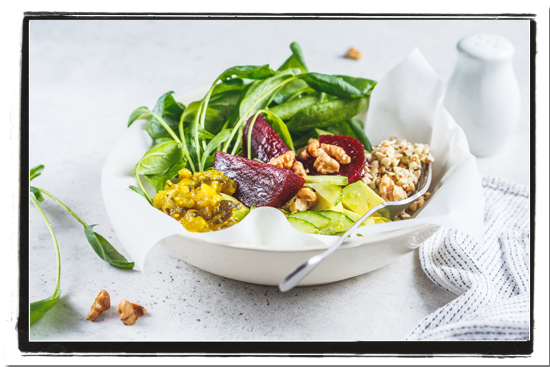 Cover and refrigerate any unused portion, and enjoy within 2 to 3 days.