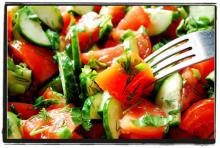 The combination of heirloom tomatoes, cucumber, and fresh dill is delicious. Simplicity at its best!
2 pounds heirloom tomatoes, cut into wedges
1 large organic cucumber, sliced
1/4 cup fresh dill, rough chopped
1/8 cup fresh parsley, rough chopped
2 tablespoons extra-virgin olive oil for drizzling
pinch of sea salt
freshly ground pepper
Put the tomatoes, cucumber, fresh dill, and parsley in a salad bowl. Drizzle with olive oil and gently toss to coat.
Season with salt and pepper.