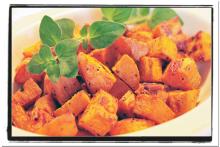 Sweet potatoes have fantastic health benefits. They are an excellent source of vitamins A and C, antioxidants, and fiber. They have incredible flavor and are just as versatile as a regular potato for home cooking.
2 large sweet potatoes, skin on
2 tablespoons extra virgin olive oil
1/4 teaspoon oregano
1/8 teaspoon thyme
1/2 teaspoon sea salt
1/4 teaspoon freshly ground black pepper
pinch of cayenne pepper (optional)
Preheat oven to 400°
Wash and dry the sweet potatoes, then cut them into 1/2' - 1" cubes.
Place the potatoes on a large baking sheet lined with foil and drizzle with oil.
Sprinkle with oregano, thyme, salt, pepper, and cayenne. Then, use your hands to massage the oil and herbs into the potatoes.
Bake in a single layer for 30 - 35 minutes until the potatoes are fork-tender, turning once.