There are so many ways to make Salad in a Jar, and we haven't met one yet that we didn't like - or love for that matter. Depending on the size of your jar or container determines the amount of each ingredient you will use. Just eyeball it and have some fun! Here are a couple of our favorites:
Spinach, Quinoa & Black Bean Salad:
Drop in a handful of spinach leaves and layer in the following:
prepared quinoa
diced avocado
diced mango
prepared black beans
sliced red onion rings
This is such a fresh and delicious salad on its own. But if you love dressing as much as we do, you'll definitely want to try this with a drizzle of our Spicy 1000 Island Dressing - or try it with your favorite red wine vinaigrette.
Spinach, Pear & Pomegranate Salad:
Drop in a couple of slices of pear and layer in the following:
baby spinach leaves
pomegranate seeds
sliced pear
more spinach leaves
walnuts
vegan blue cheese crumbles
top with a few additional pomegranate seeds
This salad is also amazingly fresh and delicious on its own, but we think it's even more delicious with a drizzle of our Pear Vinaigrette, or try it with your favorite raspberry or pomegranate vinaigrette.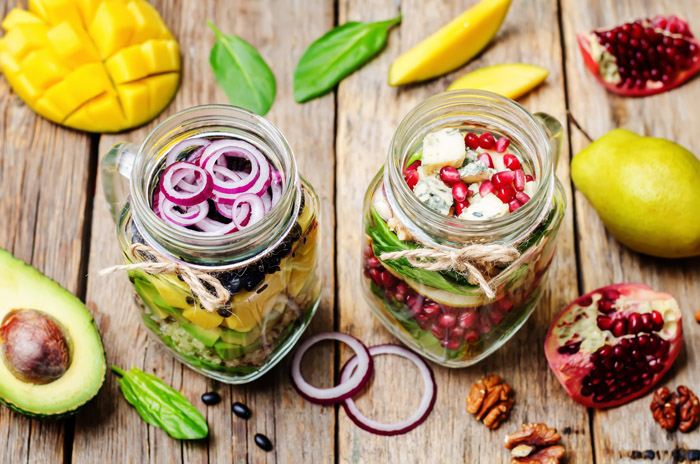 Both of these salads are perfect make-ahead salads for picnics, work-day lunches, or a relaxing day at home when you don't want to have to fuss over much of anything. If you'd like to include your dressing inside the jar, just add it first so it's on the bottom, and keep the spinach or other greens toward the top so they don't wilt.
Contains:
Avocado
Beans (canned)
Cheese (vegan)
Nuts
Onion
Spinach
Tree nut