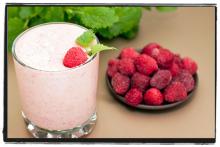 We're rocking the house with our Rockin' Raspberry Smoothie. It's creamy, refreshing, very berry delicious, and it has your name all over it!
2/3 cup chilled coconut milk beverage
1/3 cup cranberry juice
1 1/2 cup frozen raspberries
1/2 cup vegan yogurt, plain or vanilla
1 tablespoon agave
Pour the chilled coconut milk beverage and cranberry juice into a blender
and add the frozen raspberries, yogurt, and agave.
Blend at high speed until smooth. Pour into a chilled glass and garnish with fresh mint leaves and fresh raspberries.