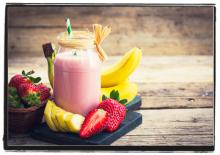 A healthful smoothie charmed with the delicious flavor combination of tropical fruit, coconut, and banana.
1 cup unsweetened chilled coconut water
1 frozen banana
1 cup mixed tropical fruit, frozen (pineapple, mango, strawberries)
3 oz. non-dairy vanilla flavored yogurt
Pour the chilled coconut water into a blender
and add the banana, mixed fruit, and non-dairy yogurt.
Blend at high speed until smooth. Pour into a chilled glass and garnish with a slice of banana.
Enjoy!