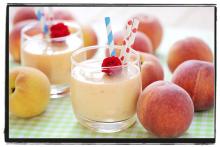 Start your day with a refreshing and delicious creamy peach smoothie; what could be better than that?
1 cups almond milk
1 cup coconut water (or filtered water)
2 cups peaches (frozen)
1/4 teaspoon vanilla
1 tablespoon maple syrup
1/4 teaspoon cinnamon
Pour the milk and water into a blender and add the peaches, vanilla, syrup, and cinnamon.
Blend at high speed until smooth.
Yield 2 Servings