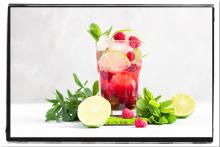 Summer is heating up, and we're cooling off with this delicious Raspberry Gin Cocktail! Can you say refreshing?
Raspberry Syrup
1 1/2 cup fresh raspberries (1/2 cup reserved)
1 cup of filtered water
1/4 cup maple syrup
Cocktail
1.5 ounces of gin
1.5 ounces tonic water
2 ounces raspberry syrup
2 teaspoons fresh lime juice
Crushed ice
Mint leaves, lime, and raspberries for garnish
Place 1 cup of raspberries into a small saucepan over medium heat. Add the filtered water and the maple syrup. Bring the mixture to a boil, reduce the heat and let simmer for 8 to 10 minutes until reduced by half.
Remove from the heat, and strain the mixture. Allow the syrup to cool completely.
Once the mixture has cooled, pour the gin, tonic water, 2 ounces of raspberry syrup, and the lime juice into a shaker with some crushed ice. Shake well.
Pour the cocktail into a highball filled with crushed ice and garnish with mint, lime, and raspberries if desired.