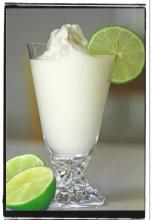 Put your feet up and relax with this Margarita Smoothie. It's the perfect blend of sweet meets tart. You're going to love it!
2 cups liquid lime margarita mix (non-alcoholic)
4 cups non-dairy vanilla ice cream
2 cups ice
2 slices of lime for garnish
4 ounces Tequilla* (Optional - Adults Only!)
Pour margarita mix into a High Powered Blender.
Add the ice cream and the ice. (Add tequila if using).
Blend on low speed for about 30 seconds, then set your blender at high speed.
Continue blending until the mixture is completely smooth.
Cheers!