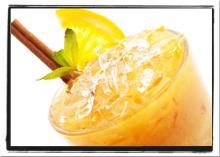 This cocktail is perfect for autumn and so delicious. It calls for cachaça, a popular distilled spirit from Brazil made from sugarcane. If you don't have cachaça on hand, you can substitute using white rum. Both are made from unrefined sugars, though cachaça will be more tart. Either way, you're going to love this cocktail! Adults only!
1/2 lime, cut into four pieces
1/2 oz. agave nectar
1/4 tsp freshly grated ginger (optional)
1/2 cup crushed ice
1 1/2 oz. cachaça or white rum
1 1/2 oz. pumpkin puree
1/2 oz. ginger liqueur
Garnish with choice of:
a sprinkling of nutmeg
cinnamon stick
lemon or lime wedge
a sliver of pumpkin
or a mint sprig
Using a Cocktail Shaker
, combine the lime, agave nectar, and fresh ginger; muddle. Add ice, cachaça, pumpkin puree, and ginger liqueur; shake well. Garnish as desired.
This recipe makes one cocktail.