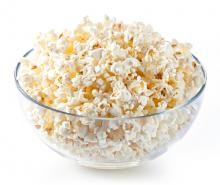 While this might not seem like a recipe in every sense of the word, it truly is a recipe for "The Perfect Popcorn!"
And it starts with our favorite popper from Amazon (clicking the link will take you to Amazon.com). It's the West Bend Stir Crazy 6-Quart Electric Popcorn Popper
.
We've owned our share of popcorn poppers. And we have to say that the Stir Crazy by West Bend is our favorite popcorn popper, ever! We've also tried our share of popcorn, both yellow and white. White popping corn pops up lighter and crispier than yellow popping corn, and it has excellent flavor.
The following recipe is designed specifically for the Stir Crazy Popcorn Popper. If you're using a different style popper, make the necessary adjustments, and follow the instructions for your machine.
1 tablespoon vegetable oil
3/4 cup Orville Redenbacher White Corn Gourmet Popcorn
1 teaspoon sea salt, more or less to taste
Add the oil, then the popcorn kernels to the Stir Crazy Popcorn Popper. Place the lid over the base (removing the small plastic top to allow the steam to escape), plug the popcorn popper into an electrical outlet, and turn the machine on. Follow the manufacturer's instructions for popping the popcorn.
When all of the popcorn has popped, unplug the popper, quickly replace the small plastic top, and carefully turn the popcorn popper upside down, inverting the popcorn into the cover. (the lid/cover serves as the popcorn bowl). Season with sea salt and enjoy it immediately.
If you prefer your popcorn buttered, melt four tablespoons Miyoko's Cultured Butter in a small saucepan. Place the popcorn in a large paper sack. Add the melted butter and salt, fold down the top of the bag, and shake vigorously until all is combined. Return the popcorn to the 'bowl' and enjoy.
Other Topping Ideas:
Extra Virgin Olive Oil
Nutritional Yeast
Nutritional Yeast and Smoked Paprika Blend
Nutritional Yeast and Cumin Blend
Chili Powder and Lime Zest
Garlic, Rosemary, Sage, and Thyme Blend
Vegan Parmesan and Rosemary Blend
The possibilities are endless!