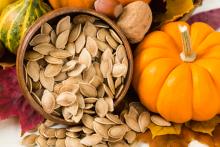 Fall is here, which means pumpkin season has officially begun! And along with pumpkin bread, soup, pie, and spiced lattes, we can't forget about toasted pumpkin seeds! Not only are they delicious, but as snacks go, they're pretty darned good for you too!
Pumpkin Seeds
Salt
1 to 2 teaspoons canola or vegetable oil
other seasonings as desired (see below)
Scoop the seeds out of the pumpkin, place them in a strainer, and rinse with cold water separating the stringy pumpkin from the seeds. Bring a medium-sized pot of water to a boil and add 1/4 to 1 teaspoon of salt. Add the pumpkin seeds and boil for about 5 to 10 minutes; just long enough for the salt to permeate the seeds. Drain the water from the seeds using the strainer, then spread the seeds onto paper towels and dab with a clean cloth or more paper towels to remove the excess moisture.
Place the seeds into a medium-sized bowl and toss with 1/2 to 1 teaspoon of oil. Sprinkle with salt to taste and spread the seeds onto a large baking pan.
Bake in a 400;deg& oven for approximately 10 to 20 minutes depending on the size of the seeds. Toss the seeds about halfway through to ensure even cooking. Observe, so they don't burn. Seeds are done when they turn a light golden tan color.
For a spicy version, toss immediately with chili powder, cumin, or curry. For a sweet version, toss immediately with pumpkin spice, or freshly ground cinnamon and sugar.