Category
Sauces, Dips, Dressings & Spreads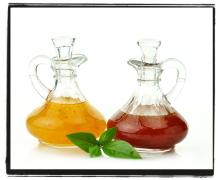 This light and flavorful dressing perfectly complements any spring salad mix.
1 large ripe pear, peeled, cored, and chopped
1/2 cup white wine vinegar
1/3 cup white or dark balsamic vinegar
1 large clove garlic, minced or crushed
1 tablespoon Dijon mustard
pinch of sea salt
1/2 teaspoon freshly ground black pepper
1/2 cup extra-virgin olive oil
Add the pear, white wine, balsamic vinegar, garlic, Dijon mustard, sea salt, and black pepper to a Blender. Blend on low until well combined.
Drizzle the olive oil slowly into the mixture while continuing to blend.
Blend for an additional 1 - 2 minutes until the dressing is thick and creamy.
Refrigerate and enjoy within seven days.