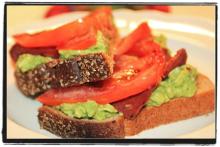 B.A.T. is short for *Bacon, Avocado, & Tomato - and we'll go ahead and warn you right now. There is no recovery group for this one. When you get hooked you stay hooked. It's that good!
1 ripe avocado
1/2 teaspoon extra-virgin olive oil
1 teaspoon of your favorite hot sauce
Pinch of sea salt and freshly ground black pepper
2 slices whole-wheat bread, toasted
4 strips vegan Lightlife Smart Bacon
4 thin slices of tomato
Sprinkling sea salt and freshly ground pepper
Juice of 1/2 lemon
Sprinkling red pepper flakes
Combine the avocados, olive oil, and hot sauce in a bowl. Mash the avocado slightly while folding the ingredients together—season with salt and pepper to taste.
Spread the avocado mixture evenly on the toasted bread. Top each slice with two strips of Smart Bacon and two slices of tomato.
Sprinkle with sea salt, freshly ground black pepper, lemon juice, and red pepper flakes.