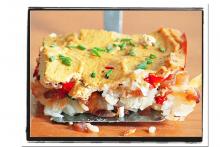 A savory and delicious "quiche" that is a complete and delightful breakfast everyone will love when served with whole-grain toast and your favorite jam!
Preheat oven to 350° Lightly grease an 8 x 8" baking dish.
2 tablespoons extra virgin olive oil
3/4 cup red onion, chopped
1 cup red bell pepper, chopped
1/2 teaspoon salt
4 cups frozen hash browns
1/2 teaspoon salt
16-ounce container organic tofu drained
2/3 cup vegan sour cream
1/2 cup nutritional yeast
3 large garlic cloves, crushed or minced
1 teaspoon salt
1/2 teaspoon freshly ground black pepper
1/2 teaspoon red pepper flake
1 tablespoon vegan Worcestershire sauce
2 tablespoons chopped fresh chives
In a medium sauté pan over medium-high heat, sauté onions, red peppers, and salt in the oil until onion begins to turn golden brown, about 10 to 12 minutes. Remove from heat.
Stir together the frozen hash browns and 1/2 teaspoon salt. Press the hash browns into a prepared baking dish. Cover with sautéed onions and peppers.
Crumble tofu into a food processor with sour cream, nutritional yeast, crushed garlic, salt, freshly ground pepper, red pepper flake, and Worcestershire sauce until very smooth. Stir in the chives.
Spread the tofu mixture evenly over the onions and peppers.
Bake for 30 minutes. Cover loosely with foil, and bake for an additional 20 minutes.
Allow to cool slightly, and sprinkle with additional freshly chopped chives before serving.