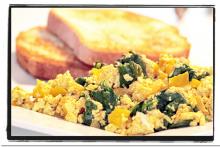 Scrambled eggs, move over! This tofu scramble has the taste and texture of scrambled eggs without cracking a single shell. We tossed in some onion, garlic, sweet yellow bell pepper, and spinach for added texture, flavor, and nutrients, and it's delicious!
1 tablespoon extra virgin olive oil
1/2 cup onion, chopped
1 clove garlic, crushed
1 medium yellow bell pepper, diced
1 14-ounce block extra firm organic tofu, drained
1/2 teaspoon dry mustard
1/2 teaspoon turmeric
1/3 cup nutritional yeast
1/8 teaspoon black salt powder
4 cups fresh leaf spinach
salt and pepper to taste
Heat oil in a large skillet over medium heat.
Add onion, garlic, and bell pepper. Sauté until the vegetables are tender, about 3 to 5 minutes.
Next, crumble the tofu and add it to the skillet. Continue to cook over medium heat for an additional 3 to 5 minutes until most of the moisture has cooked off.
Stir in mustard, turmeric, nutritional yeast, and black salt powder. Fold in the spinach leaves a few at a time until the leaves have wilted and cooked down slightly.
Remove from heat, season with salt and pepper to taste, and serve immediately!