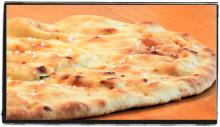 Making flatbread is easy! And there's no better way of taking control of the ingredients than by making it yourself. It is easy to make and delicious when dipped in herb-infused olive oil. It also makes an excellent base for flatbread pizza.
1 tablespoon active dry yeast
2 cups luke-warm water
1 tablespoon agave nectar or sugar
4 cups all-purpose flour
1 1/2 teaspoon salt
2 to 4 tablespoons of olive oil for brushing
3 to 4 tablespoons fresh minced thyme or rosemary (optional)
sea salt for sprinkling
Combine the yeast, water, and agave in a large bowl, and let the mixture rest for 10 minutes. Next, stir in 3 cups of the flour and the salt, adding the remaining cup of flour a few tablespoons at a time, just until you have a sticky dough. Transfer it onto a floured board and knead until the dough is smooth.
Divide the dough into six equal portions. Flour your hands to keep them from sticking to the mixture, then press and pull the dough into an oval about 5 inches wide and 7 inches long.
Dust each piece lightly with flour, then stack each on a plate, separating them with lightly oiled parchment paper. Wrap the stack in foil and refrigerate for approximately 2 hours.
Preheat the oven to 400° F. Remove the dough and brush both sides lightly with olive oil. Sprinkle one side with thyme or rosemary, press it with your fingers to create small indentations, then sprinkle with sea salt.
Arrange the flatbread on a lightly oiled baking sheet and bake for approximately 7 to 10 minutes or until the bottoms are golden. Turn and continue cooking for another 3 to 4 minutes.
Store any extra dough in a lightly oiled bowl and cover tightly with plastic wrap. The dough will keep for up to 3 days in the refrigerator.