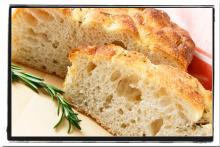 Focaccia is the perfect accompaniment when served with soup, salad, and pasta. It's equally delicious all by itself. Any way you slice it, you're going to love it! You can use it to make yourself a veggie sandwich, panini, or croutons for your garden salad. It's guaranteed to satisfy any bread lover's appetite.
1 packet of active dry yeast
1 3/4 cups warm water
1 teaspoon sugar
3 1/2 cups unbleached all-purpose flour
1 tablespoon kosher salt (plus one teaspoon for the top)
1 teaspoon dried rosemary (plus one teaspoon for sprinkling on top)
1/4 cup olive oil (half reserved)
Dissolve the yeast in warm water. Stir in the sugar until it has dissolved. Let sit for 7 to 10 minutes. (The mixture should form bubbles after about 5 minutes, if not, the yeast may be inactive, and you'll need to begin again with a new packet.)
Add the flour and 1 tablespoon of kosher salt to your electric stand mixer (or a large bowl if mixing by hand); add one tablespoon of rosemary and half the oil. Using the dough blade (the hook), begin to blend. Add the yeast mixture and continue to mix. Add more water, if needed, a teaspoon at a time to create a smooth ball of dough.
Knead the dough for about 10 minutes (5 if using the electric stand mixer) until smooth and elastic. Coat the bowl's sides with olive oil, and turn the dough to moisten both sides. Cover with a damp cloth and allow it to rest in a warm spot until it doubles in size, about 2 to 2 1/2 hours.
Once the dough has risen, punch it down and knead it again for a few minutes, then press it into an oiled 9 to 10-inch round cake pan or a 12 x 16-inch baking sheet. Using your fingers, create small depressions on the surface of the dough.
Cover the pan with plastic wrap, and allow the dough to rest for 1 hour.
Preheat your oven to 400 ° F
Remove the plastic wrap and brush the remaining half olive oil over the dough. Sprinkle with the remaining one teaspoon of kosher salt and one teaspoon of rosemary. Gently, make several impressions with your fingers.
Bake for 20 - 25 minutes or until the bread is golden in color. Carefully remove the focaccia from the pan to cool on a wire rack.
Cut the loaf into bite-sized pieces and serve with warm olive oil in one dish and balsamic vinegar in another.