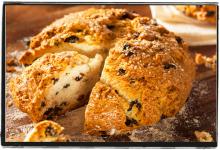 Irish Soda Bread is a traditional quick bread that has been around for many years. The first soda bread recipe publicized in the US was in the late 1700's in a book titled The First American Cookbook: A Facsimile of "American Cookery," 1796
, written by Amelia Simmons. This bread was initially made with the use of dairy derived buttermilk, however, making this plant-based version is just as easy and delicious!
Preheat the oven to 375°
Line a baking sheet with parchment paper.
1 3/4 cups non-dairy milk
1 tablespoon white distilled vinegar
3 tablespoons ground flaxseed or 4 1/2 teaspoons Ener-G Egg Replacer (the equivalent of 3 eggs)
1/2 cup water (6 tablespoons if using Ener-G)
4 cups unbleached all-purpose flour
4 tablespoons sugar
1 teaspoon baking soda
1 teaspoon kosher salt
4 tablespoons (1/2 stick) cold vegan butter
1 teaspoon grated orange zest
1 cup dried currants
1 tablespoon unbleached all-purpose flour
2 tablespoons coarse sugar (optional)
Combine the non-dairy milk and vinegar and let it sit for 5 to 10 minutes. This mixture will act as your 'buttermilk' for the recipe. Next, mix the flaxseed and water (or Ener-G and water) and set it aside. This mixture will act as your 'egg.'
Meanwhile, combine the flour, sugar, baking soda, and salt in the bowl of an electric mixer. Add the butter and mix at low speed until the butter is roughly the size of peas. With the mixer on low speed, add the 'buttermilk' mixture and 'egg' mixture, as well as the orange zest. Mix just until combined. Next, place the currants in a small bowl and sprinkle with a tablespoon of flour. Toss to coat, then add the currents to the dough. Mix just until everything is incorporated. Do not over mix. The dough will be fairly wet and a bit "shaggy" at the same time.
Turn the dough out onto a well-floured board and knead for about a minute. Shape it into a round loaf and place it into a well-oiled round cake pan. Using a serrated knife, cut a large cross into the top of the bread. (Scoring the top allows the center to bake).
Lightly sprinkle the top with coarse sugar if using. (This is entirely optional, but we like it.)
Bake for 50 to 55 minutes, or until the top is golden. Cover loosely with foil if the top is getting too brown too soon.
Cool on a baking rack for a few minutes before serving. Serve warm or toasted with non-dairy butter. Soda bread can dry out quickly, so wrap it in an airtight bag and enjoy it within 2 to 3 days.