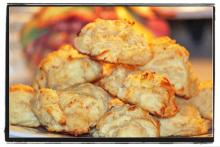 We love the simplicity of Drop Biscuits. They're delicious, they bake in a matter of minutes, and they pair nicely with practically everything. We added a little heat to make these "melt-in-your-mouth" biscuits even more irresistible!
1 cup unbleached all-purpose flour
1/4 teaspoon salt
2 teaspoons baking powder
1/2 teaspoon cream of tartar
1 tablespoon sugar
1/4 teaspoon garlic powder
1/4 cup Earth Balance - or other vegan butter, cold
1 small minced jalapeño, seeds removed, more or less to taste
1/2 cup rice milk or other non-dairy milk
1/2 cup vegan, pepperjack cheese, shredded, we like Daiya
2 tablespoons melted butter
In a Food Processor
(Amazon link), combine flour, salt, baking powder, cream of tartar, sugar, and garlic powder.
Add 1/4 cup vegan butter and pulse until the butter is incorporated and the mixture is the texture of cornmeal.
Turn the mixture out and into a large bowl and add the minced jalapeño.
Stir in the milk and shredded cheese until just combined. Do not over mix.
Drop by spoonfuls onto a greased baking sheet or use a baking sheet covered with parchment paper.
Bake at 425° for 10 - 12 minutes or until lightly golden.
Meanwhile, melt two tablespoons of vegan butter.
Brush the melted butter onto the warm biscuits immediately upon removing them from the oven.
Yield 10 - 12 biscuits.