Category
Sauces, Dips, Dressings & Spreads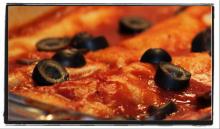 We are so excited about this sauce! One, because it's delicious, and two, because it's so easy to make. It's the perfect recipe!
1 8-ounce can tomato sauce
2 tablespoons chili powder
2 tablespoons cornstarch
1 teaspoon cumin
1 teaspoon onion powder
1 teaspoon garlic powder
1/4 teaspoon oregano
1 1/2 cups vegetable broth or Better Than Bouillon No Chicken Base
salt and freshly ground black pepper
Whisk the tomato sauce, chili powder, cornstarch, cumin, onion powder, garlic powder, oregano, and broth in a medium saucepan.
Cook and stir over medium-high heat until the sauce thickens, about 5 - 7 minutes. Remove from heat—season to taste with salt and pepper.
The sauce is now ready to use!
Refrigerate any unused portion for up to 1 week or freeze up to 3 months.
This recipe makes approximately 3 cups of sauce.