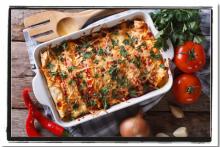 When I was growing up, our family often went to a local Mexican restaurant. Always excited to go; I always ordered the same thing... enchiladas! They were cheesy, gooey, and delicious. This recipe is the enchiladas as I remember them, and of course, vegan!
2 tablespoons extra virgin olive oil
2 Gardein Chick'n Scaloppini Cutlets
1/2 cup onion, chopped
1 large clove garlic, minced
1 1/2 cup portabella mushrooms, finely chopped
1 cup kale, finely chopped
1/2 teaspoon dried oregano
1/4 cup dry white wine
1/2 teaspoon sea salt
1/4 teaspoon freshly ground black pepper
2 cups Enchilada Sauce
8 ounces Go Veggie Cream Cheese
8 flour tortillas
10 ounces vegan Monterey Jack or cheddar cheese, shredded
Heat oil in a large skillet over medium heat. Add the Gardein cutlets, and cook until browned on both sides, about 4 minutes on each side. Remove from pan, cut into small pieces, and set aside.
Add the onion to the same skillet and sauté over medium heat until soft, about 3 minutes. Add the garlic and sauté another minute. Stir in the chick'n pieces, mushrooms, kale, and oregano. Continue to sauté until the mushrooms are soft, and the mixture is well combined about 8 - 10 minutes. Add the wine to deglaze the pan, getting up all the stuck-on bits from the bottom. Season the mixture with salt and freshly ground pepper to taste.
In a saucepan over medium heat, combine the enchilada sauce and cream cheese. Cook, stirring continuously until the sauce begins to simmer. Remove from heat.
Pour 1/2 cup of the sauce mixture into a 13 x 9-inch baking dish, covering the bottom with a thin layer.
Start assembling the enchiladas by spooning 1/8 of the filling into a flour tortilla, add 1 ounce of vegan cheese shreds. Next, roll the tortilla and place it in the baking dish seam side down. Continue the process with the remaining tortillas.
Pour the remaining 1 1/2 cups of enchilada sauce over the tortillas, then sprinkle the top with the remaining cheese shreds—Bake in a 350° oven for 25 to 30 minutes, until hot and bubbly.
Remove from heat and let stand for 5 to 10 minutes before serving.
Top with freshly chopped parsley.