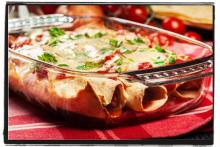 We don't know anyone who doesn't love tacos, and a great casserole too, for that matter. So we decided to create a dish and combine the best of both!
2 cups brown rice, prepared
1 tablespoon olive oil
1/2 cup onion, chopped
1 clove garlic, crushed
1/2 cup red or green bell pepper, diced
1 cup corn, fresh or frozen
1 1/4 cup salsa (1/4 cup reserved)
1 15-ounce can of black beans, drained, rinsed, and rough-mashed
1 teaspoon oregano
1 teaspoon cumin
1 teaspoon chili powder
1/2 teaspoon salt
10 corn tortillas
2 1/2 cups vegan cheese, cheddar, or jack style shreds
Heat the olive oil in a large skillet over medium heat and add the onion, garlic, and bell pepper. Sauté until the vegetables are tender.
Stir in the prepared rice, corn, salsa, mashed beans, oregano, cumin, chili powder, and salt. Turn the heat to medium-low and continue to cook, often stirring, until well combined and heated through—about 8 to 10 minutes. Adjust seasonings to taste.
Spray the bottom of an 11 x 13-inch baking dish with non-stick cooking oil, then spread the reserved 1/4 cup of salsa over the bottom of the baking dish.
Assemble the corn tortillas one at a time by adding two tablespoons of cheese, topped with approximately 1/3 cup of filling. Roll the tortilla tight, and place it in the baking dish seam side down.
Continue until you have filled the baking dish, then top the tortillas with any remaining filling and the remaining cheese. Cover with aluminum foil.
Bake at 375° for 25 to 30 minutes.
Remove from the oven and let stand for 5 to 10 minutes before removing the foil.
Top the casserole or serve with your favorite toppings; chopped lettuce, avocado, onion, tomato, black olives, salsa, vegan sour cream, jalapenos, and hot sauce.