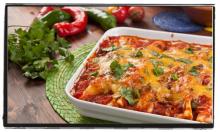 Look no further if you're looking for the perfect dish to serve your non-vegan friends and family. After all, the idea is to serve delicious food that happens to be vegan. So, they would never know unless you tell them these are vegan. The only thing they'll be sure of is that they're delicious.
The Sauce:
2 tablespoons canola oil
2 tablespoons all-purpose flour
1 28-ounce can of enchilada or Mexican red sauce
2 cups prepared Better Than Boullion No Chicken Broth
1 tablespoon cumin
1/2 teaspoon salt
1/2 teaspoon black pepper
In a saucepan over medium-low heat, add the canola oil and flour, whisking to combine—cook for about a minute. Next, add the red sauce, chicken broth, cumin, salt, and pepper. Whisk to combine and bring the mixture to a boil. Reduce the heat to low and simmer.
The Meat:
1 tablespoon canola oil
1 medium onion, finely chopped
One 12-ounce package of ground vegan crumbles
One 15-ounce can of black beans, rinsed and drained
1/2 teaspoon salt
While the sauce is simmering, heat the oil in a large skillet over medium-high heat. Add the onions and cook until translucent. Stir in the ground crumbles and black beans, mashing the beans slightly with the back of a spoon. Cook until heated all the way through. Season with salt and set aside.
All The Rest:
Canola oil for frying
10 to 12 corn tortillas
two 4-ounce cans of diced green chilies
1 cup chopped green onions
1/2 cup chopped black olives
1 1/2 cups grated vegan cheddar style*
1 1/2 cups grated vegan Monterey Jack*
Fresh chopped cilantro for garnish
In a small skillet over medium heat, add 2 to 3 tablespoons of canola oil. Fry the tortillas, one at a time, just until soft. Do not overcook; it should only take about 15 seconds per side. Repeat with the rest of the tortillas placing them on a papertowel-lined plate for draining.
Preheat the oven to 350 degrees F.
Spread 1/2 cup of the sauce evenly in the bottom of a 9- by 13-inch baking dish. One at a time, dip each tortilla into the pan of sauce. Set the sauce-soaked tortilla on a plate. Add 3 to 4 tablespoons of the meat and bean mixture, chilies, green onions, and black olives. Top with a generous portion of the grated cheeses. Roll the tortilla and place it seam side down in the baking dish. Repeat with the rest of the tortillas.
Pour the remaining sauce on top of the enchiladas and any leftover bits of chiles, green onions, or olives from the filling. Top with the remaining cheeses.
Cover with foil and bake for about 20 to 25 minutes. Add freshly chopped cilantro over the top of the enchiladas and serve.
*We like CHAO by Field Roast for its melting quality for commercial cheese. However, you can also make your own cheese sauce for this recipe, seasoning it with 1/2 cup of the enchilada sauce in place of the liquid.