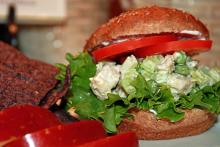 This chick'n salad recipe is hands-down the best you will ever taste! We put this on a whole grain bun because we think it makes a delicious sandwich, but this "chicken salad" can be served on a bed of lettuce or in a wrap just as quickly. No matter how you serve it - we promise you're going to love it!
2 Gardein Chick'n Scallopini Cutlets
1/4 cup Follow Your Heart brand Vegenaise
1 tablespoon fresh lemon juice
1 clove garlic, minced
1 teaspoon dijon mustard
2 tablespoon pickle relish (sweet or dill)
1/2 cup frozen baby peas, thawed
2 ribs of celery, diced small
1 tablespoon chopped fresh dill (optional)
Cook the gardein cutlets as directed on the package. Allow to cool completely and chop into 1/2" to 1" cubes.
In a small bowl, whisk together the Vegenaise, lemon juice, garlic, mustard, and relish.
Combine the chopped cutlet, Vegenaise mixture, peas, celery and dill, and stir.
Chill for 1 to 2 hours before serving to allow flavors to combine.
Contains
Celery
Garlic
Lemon
Peas
Tempeh