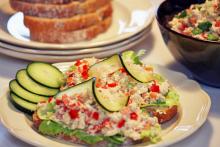 Egg Salad is a recipe that, before becoming vegan, most of us enjoyed. If you've been missing egg salad, then you must make this recipe. You'll be surprised at how delicious this salad is and without cracking a single shell.
12 oz. extra-firm organic tofu
1/4 cup Vegenaise - or try our recipe for homemade mayonnaise
1/2 red bell pepper, finely chopped
1/4 cup white or red onion, finely chopped
1/4 cup carrot, finely chopped
1 celery stalk, finely chopped
2 teaspoons pickle relish
1 tablespoon dijon mustard
1/2 teaspoon ground turmeric
1/2 teaspoon salt
1/4 - 1/2 teaspoon black salt powder, "Kala Namak," to taste
1/4 teaspoon pepper
10 - 12 slices of multi-grain bread
lettuce and cucumber slices for garnish. (optional)
In a large bowl, mash tofu with a potato masher, or a fork.
Add the Vegenaise, bell pepper, onion, carrots, celery, relish, mustard, turmeric, salt, and pepper. Stir until well combined.
Keep refrigerated and enjoy within five days.
Contains
Bell Pepper
Carrot
Celery
Onion
Tofu
Vegenaise (vegan mayonnaise)
Wheat