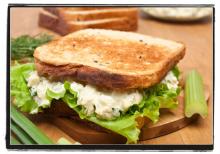 This no egg, egg salad is so delicious. And we did it without cracking a single shell.
12 oz. extra-firm organic tofu
1/4 cup vegan mayo
1 celery stalk, finely chopped
1 large pickle, diced, or 2 tablespoons pickle relish
1 tablespoon dijon mustard
1/2 teaspoon ground turmeric
1/2 teaspoon Black Salt (Kala Namak) Powder
(this gives it the "egg" flavor you want
1/4 teaspoon pepper
In a large bowl, mash the tofu with a potato masher or the back of a fork.
Stir in the vegan mayo, celery, pickles or relish, mustard, turmeric, black salt, and pepper.
This salad is delicious served as a sandwich, on toast, in a wrap, or on a bed of lettuce.
Keep refrigerated and enjoy within 5 to 7 days.