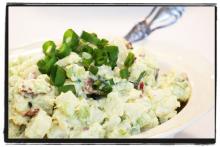 We love potato salad and could eat it all year round - and do! This recipe is one of our favorites. A full-flavored potato salad even your non-vegan friends and family will love!
8 - 10 cups of cold water
4 cups russet potatoes, diced into 1-inch cubes
1 cup celery, diced small
1 extra-large kosher dill pickle, diced small
1/2 cup scallions, green parts only, sliced thin
5 strips Smart Bacon, diced small and cooked crisp
1/2 cup vegan mayo
1 tablespoon Dijon mustard
1 tablespoon yellow mustard
1 teaspoon garlic powder
Kosher salt and freshly ground black pepper
Place the potatoes in a saucepan and cover with cold water. Simmer the potatoes until they are fork-tender.
Drain the potatoes in a colander, then return them to the saucepan. Dry them over low heat for 1 to 3 minutes, then remove the pan from the heat and allow the potatoes to cool.
Place half of the potatoes into a large bowl and roughly mash with a potato masher.
Add the remaining potatoes to the bowl, celery, pickle, onion, and prepared Smart Bacon.
Combine the vegan mayo, Dijon mustard, yellow mustard, and garlic powder in a separate medium-sized bowl. Stir until smooth.
Pour the dressing over the potatoes. Gently fold it in with a spatula until well combined.
Season to taste with salt and freshly ground pepper.