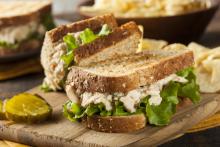 The unique flavor combination of umeboshi plum vinegar, fresh lemon, and dill take this "tuna" salad over the top - making it one of our favorites! Not only is it delicious, but it's also incredibly good for you!
One 15-ounce can chickpeas, drained and rinsed
1/4 cup vegan mayo, we like Vegenaise
1 tablespoon stone-ground mustard
1 2-inch x 3-inch sheet of Organic Roasted Seaweed Snack, ground
1 teaspoon fresh lemon juice
1/8 teaspoon dried dill weed
2 Scallions diced (optional)
1/8 teaspoon cayenne pepper
freshly ground black pepper
Add all of the ingredients to the bowl of a Food Processor
. Pulse 5 to 6 times, just until everything comes together.
If you're not using a food processor, mash the chickpeas with a fork, then stir in the remaining ingredients.
Next, grab two slices of your favorite bread, pop them in the toaster if you're so inclined, then add the "tuna," some lettuce, a few pickles, and enjoy!
You might want to skip the bread entirely and opt for crackers, or serve this over a bed of greens with sliced tomato and chopped green onion!
Contains
Beans (canned)
Celery
Lemon
Scallions
Vegenaise (vegan mayonnaise)
Vinegar