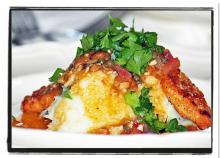 Not only is this dish beautiful, but it is also absolutely delicious! We took a little help from our friends at Gardein, and we couldn't be happier - or more stuffed! You have to give this a try!
Garlic Whipped Potatoes:
4 - 6 medium Yukon gold potatoes, peeled and quartered
1 tbsp minced garlic
4 tbsp Earth Balance butter
¼ cup of vegan milk (soy or almond)
salt & pepper to taste
Boil potatoes until tender and drain. Add garlic, butter, and milk to potatoes and mix with an electric mixer until smooth. Add salt and pepper to taste.
"Chick'n" Scallopinni:
1 to 2 pkgs. Gardein Chick'n Scallopinni (depending on how many you are serving)
2 tablespoon olive oil
1 tablespoon Earth Balance butter
1/2 cup white whole wheat flour
salt, pepper, and garlic powder to season
Season each piece of Gardein Chick'n with a pinch of salt, pepper, and garlic powder. Combine the olive oil and butter in a large skillet over medium heat. Dredge each piece of Chick'n into the whole wheat flour and add it to the skillet. Be careful not to overcrowd the skillet. Cook until lightly crisped and browned on both sides. Transfer the chick'n to a plate, cover loosely with foil, and set aside. (Set the skillet aside. You'll use it when it's time to make the gravy.)
Mushroom Piccata Sauce:
1 tablespoon Olive Oil,
2 cloves minced garlic
1/4 cup chopped onion
6 ounces of sliced shitake Mushrooms
3/4 cup vegetable broth
juice of 2 lemons
2 tablespoons of capers, rinsed and chopped
pinch of salt and pepper
2 tablespoons Earth Balance butter
Fresh parsley for garnish
In a small mixing bowl, combine the vegetable broth, lemon juice, and capers and set aside. In the same skillet that you cooked the Chick'n in, heat the olive oil. Add the garlic, onion, and mushrooms to the pan — season with a pinch of salt and pepper. Sauté for about 5 minutes or until the mushrooms are soft. Add the broth and deglaze the pan by scraping all of the little bits from the bottom. Doing this will add a lot of flavor to your sauce.
Continue to cook over low heat for 3 to 5 minutes, then stir in 2 Tablespoons of Earth Balance butter. Add your Chick'n pieces to the sauce. Adjust the seasoning if needed, but be careful not to over-season. The capers will add a natural saltiness to the dish.
Assemble the dish:
Place about 1/2 cup of potatoes in the center of a plate. Add 1 to 2 chick'n pieces per person. Top with the desired amount of Mushroom Piccata sauce and some freshly chopped parsley.