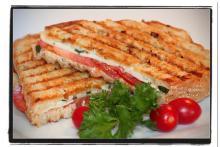 In Italy, a Panino or Panini is the Italian word for "Sandwich." It's traditionally grilled using ciabatta, rosetta, or a baguette. In America, however, this sandwich referred to most often as a Panini, is made in various ways.
This Tomato Basil Panini is our Americanized vegan version of the Italian Panino. We've made it with sliced cracked-wheat sour-dough bread, and it's beyond delicious if we do say so ourselves!
Two slices of cracked-wheat sour-dough bread
2 Tbsp Follow Your Heart Pesto Vegenaise
3 to 4 slices of vegan mozzarella, thinly sliced; we like Follow Your Heart brand
3 large leaves of fresh basil chiffonade
4 tomato slices, thinly cut
2 Tbsp vegan butter, like Earth Balance
Spread the Vegenaise evenly over one side of each slice of bread. Top with mozzarella, basil, and tomatoes, then place the remaining piece of bread on top; Vegenaise side down to form your sandwich. Butter the top side of each slice.
If you're using a Panini Press
, assemble the panini as instructed above, butter the outside of both slices of bread, and grill for 3 - 4 minutes or until golden brown.
For the stovetop; heat a Grill Pan
over medium heat. Place the sandwich in the pan, and cook until the bread is golden brown and the cheese has melted, about 4 minutes per side.