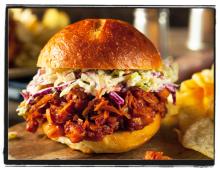 This is the recipe you need to make for every carnivore you know. It might just turn them vegan on the spot. It will make them rethink animal meat once they realize the sandwich they just devoured was 100% plant-based! Not to mention completely and utterly delicious!
2 20-ounce cans of young green Jackfruit in Brine (or water)*
1 tablespoon paprika
1 tablespoon brown sugar
1 teaspoon cumin
1/2 teaspoon cayenne pepper
1 tablespoon olive oil
1 medium white or yellow onion, halved and sliced thin
2 teaspoons minced garlic
3/4 cup BBQ sauce
1/3 cup vegetable broth
1 tablespoon vegan Worcestershire sauce
1/4 teaspoon liquid smoke
salt and freshly ground black pepper, to taste
Drain and rinse the jackfruit in cold water. Remove the core from each piece with a sharp knife and discard it. Pull the jackfruit apart and, if desired, remove and discard any seeds, then add the jackfruit to a medium-sized bowl. Using two forks, pull/shred the jackfruit into smaller pieces. Sprinkle with paprika, brown sugar, cumin, and cayenne pepper. Stir the jackfruit to evenly coat, then set aside.
Meanwhile, heat the olive oil over medium heat in a large skillet. Add the onion and saute for 3 to 5 minutes until translucent. Add the garlic and cook for another minute.
Add the jackfruit and cook for 3 minutes, continuously stirring. Pour the BBQ sauce, vegetable broth, Worcestershire sauce, and liquid smoke over the jackfruit and mix until well combined. Cook at a low simmer over medium heat for 20-25 minutes, frequently stirring.
Meanwhile, preheat the oven to 350°. Once cooked, spread the jackfruit mixture onto a baking sheet and pop it in the oven for about 10 to 15 minutes. This step will caramelize the sugars and create those crunchy little bits we all love when it comes to barbecue, a little tip we picked up from Chef D. Phillips of The Food Network.
Serve straight-up on a bun; with shredded lettuce and sliced tomato; or topped with our delicious Coleslaw. No matter how you serve it - one thing's for sure - you're going to love it! Have a large crowd to please? Make Sliders! Grab yourself a package or two of slider-sized buns and assemble as directed above! Can you say YUM?
This Barbecued Jackfruit Sandwich is so similar to a pulled pork sandwich; you'll be hard-pressed to convince a carnivore that it's 100% plant-based! So go ahead, try it!
*You can find young green jackfruit in brine (or water) at many Asian markets, just call ahead to confirm they have it in stock before heading out, or order it from Amazon.com
and have it delivered right to your door!
Yield 4 servings.