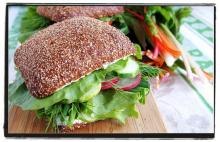 When you think about making an all-veggie sandwich, think about making it amazing! We're talking several ingredients, several fresh, delicious, colorful, ingredients.
Think of all the flavors you love, textures you enjoy, and colors you want to see on your plate. Then grab two slices of your favorite style of bread and go. to. town.
To help get those creative-culinary-sandwich-making-juices flowing, here's a recipe for one of our favorite veggies on rye:
1 rye bun or roll, halved
2 tablespoons vegan mayonnaise
green butter lettuce
fresh dill weed
sliced cucumber
sliced radishes
green onions, green parts only
fresh lemon juice (optional)
Spread the inside of each roll with the vegan mayo, then start layering on all the veggies.
Squeeze a bit of fresh lemon juice atop all the veggies, then cap it with the top half of the roll and enjoy!