Category
Sauces, Dips, Dressings & Spreads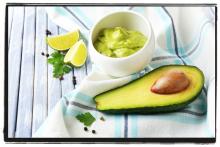 This avocado mayo will change the way you look at your next sandwich! It's rich and creamy and full of flavor.
One of our favorite ways to enjoy this delicious mayo is on toast, topped with a tofu scramble or JUST egg. It's beyond delicious!
Here's what you need:
2 avocados, ripe
2/3 cup vegetable or sunflower oil
1/4 cup of chickpea water (aquafaba)
Juice of 1/2 lime
1 teaspoon dijon or yellow mustard
a pinch of salt and pepper
Place all of the ingredients into a large cup. Using an Immersion Blender, blend until smooth.
Use it right away! Store any unused portion in an airtight container in the refrigerator and enjoy within 3 to 5 days.
Covering the top with cellophane will help to keep the avocado from turning dark. However, the top layer might turn a little dark anyway. If so, stir it before use.