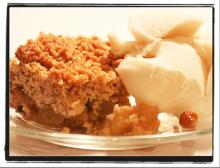 This is such a delicious and comforting dessert. Serve it warm with a dollop of vegan whipped cream or your favorite vegan ice cream. It just doesn't get any better than this!
4 large granny smith apples, peeled, cored, and sliced
1/2 cup golden raisins
1/4 cup granulated sugar
3/4 cup unbleached all-purpose flour, plus 2 tablespoons
1 teaspoon cinnamon, divided
1/2 cup quick oats
1/2 cup firmly packed brown sugar
1/4 teaspoon nutmeg
1/4 teaspoon salt
1 teaspoon almond extract
1/2 cup (1 cube) non-hydrogenated, nondairy butter, melted
Preheat the oven to 375°
Lightly grease an 8 x 8 Baking Dish
. In a medium-sized bowl, toss the apples, raisins, granulated sugar, two tablespoons of flour, and 1/2 teaspoon of cinnamon to thoroughly coat the apples.
In another medium-sized bowl, combine the remaining 3/4 cup of flour, 1/2 cup quick oats, brown sugar, nutmeg, the remaining 1/2 teaspoon of cinnamon, salt, almond extract, and melted butter. Stir or pulse in a food processor until the mixture is combined and crumbly. Sprinkle the topping over the apples.
Cover with foil and bake for 45 - 50 minutes or until the apples are soft when pierced with a fork. Uncover and cook until the crumble is crisp and golden in color, about ten more minutes.