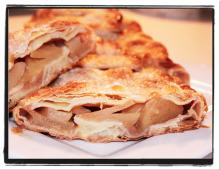 Strudels are the perfect blend of buttery puffed pastry and fruit. They're also super easy to throw together, even at the last minute. Lucky for us, one of the most popular brands of puff pastry is vegan-friendly!
1 puff pastry sheet, defrosted
3 tablespoons sugar
3 tablespoons flour
1/2 teaspoon cinnamon
1/8 teaspoon nutmeg
1/8 teaspoon allspice
pinch of salt
3 apples, peeled, and sliced thin Juice of one navel (or other seedless) orange
2 tablespoons Earth Balance butter, melted
extra sugar for sanding
Defrost the puff pastry according to package directions. (It takes approximately 30 minutes to defrost one sheet)
Preheat oven to 375° degrees
In a large Mixing Bowl
combine the sugar, flour, cinnamon, nutmeg, allspice, and salt. Toss the apples with the orange juice, then add to the dry mixture. Toss until the apples are well coated, and set aside.
Unfold the puff pastry and roll it out onto a lightly floured surface to approximately 11 x 15 inches. Spoon the apples onto the dough, forming a line down the middle. Fold one side over the apples, then take the opposite side and fold it over — tucking in the ends.
Using a Pastry Brush
brush the top of the strudel with the melted butter, then sand generously with sugar. Use a Serrated Knife to make several diagonal slashes along the top of the strudel.
Bake for 30 - 35 minutes until the top is golden and puffy. Allow the strudel to cool for 20 to 30 minutes before slicing.