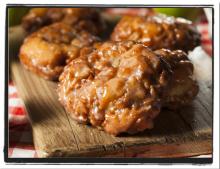 Apple Fritters. Oh, for the love of all things you'd like to sink your teeth into! Can we stop for a moment and talk about how good these are? A delicious deep-fried donut with sweet little apple nuggets running all through them. They're amazingly delicious, served with a light glaze, drizzled with maple syrup, or dusted with powdered sugar. We'll take ours any way we can get them!
Here's what you need:
Vegetable oil, for deep-frying, 2 to 3 cups depending on the size of your pan or Deep Fryer
.
The dough
2 cups all-purpose flour
1/2 cup granulated sugar
2 1/2 teaspoons baking powder
3 teaspoons cinnamon
1 1/2 teaspoon kosher salt
2 vegan eggs, equivalent, (we like VeganEgg) by Follow Your Heart
3/4 cup non-dairy milk
2 tablespoons melted vegan butter
2 1/2 teaspoons vanilla extract
2 Granny Smith Apples, cored and cut into small dice
Glaze (recipe follows)
The Glaze
1 1/2 cups powdered sugar
3 to 4 tablespoons of dairy-free milk
1 teaspoon vanilla extract
Heat a Cast Iron Dutch Oven or Cast Iron Skillet over medium heat, then add the oil. Heat until a Deep Fry Thermometer inserted in the oil registers 340° degrees F.
Combine the flour, granulated sugar, baking powder, cinnamon, and salt in a large mixing bowl. Beat the egg mixture with a whisk in a separate medium-sized bowl, then add the milk, melted butter, and vanilla. Pour the wet ingredients into the dry and gently fold together until combined. (don't over-mix). Next, fold in the apples.
Carefully drop heaping tablespoons of batter into the hot oil, 4 to 6 at a time, and fry until golden brown, about 4 to 6 minutes, turning halfway through.
Remove the fritters and drain them on paper towels.
Meanwhile, make the glaze: Sift the powdered sugar into a medium bowl. Stir in the milk and vanilla until smooth. Brush the glaze onto the fritters and serve warm.