Category
Sauces, Dips, Dressings & Spreads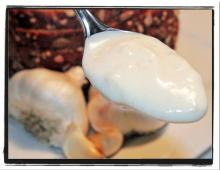 While it's true, you can buy vegan mayo, dressings, and dips in almost every supermarket across the globe; there's something about "homemade" that makes it that much better! Spread this on a sandwich or use it as a dip for your fries and veggies!
1/2 cup silken organic tofu
1/2 teaspoon Dijon mustard
2 teaspoons fresh lemon juice
1/4 teaspoon kosher salt
1 large garlic clove, crushed with a garlic press
2 tablespoons olive oil
Combine the tofu, mustard, lemon juice, salt, and garlic in a Blender
. Blend until well combined.
Through the hole in the top of the blender, slowly drizzle in the oil and continue to blend until completely smooth.
Keep refrigerated.