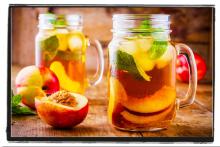 Peach tea is both delicious and refreshing, and it couldn't be any easier to make!
4 cups water
3 family-sized tea bags or 6 small
2 peaches, halved, pits removed
1 11-ounce can peach nectar
2 cups ice
Add 4 cups of cold water to a medium pot over medium-high heat. Remove all the paper tags from the strings of the tea bags, leaving the actual strings attached.
Tie all the strings together and drop the tea bags into the water. (Tying them all together will help when it's time to remove them from the pot).
Bring the water to a boil, then reduce the heat to medium-low and let the tea bags simmer in the water for 3 to 5 minutes.
Remove the pot from the heat, and discard the tea bags.
Set the pot aside and allow the tea to cool to room temperature.
Meanwhile, rinse the peaches in cold water and cut them in half. Remove the pit, then cut each half into about five slices.
Combine the peaches and peach nectar in a large pitcher and refrigerate. After the tea has cooled, add it to the pitcher along with the ice, and stir gently to combine.
Chill thoroughly before serving. Garnish with fresh mint and enjoy!
Cheers!