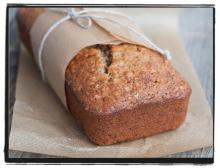 When you take the time to make banana bread, you want it to be moist, flavorful, and fantastic. And so do we! Not only will this recipe meet your expectations, but it will also surprise you at how easy it comes together. So, let's get started!
2 tablespoons chia seeds, ground
6 tablespoons cold water
1 cup of sugar
8 tablespoons (1 stick) Earth Balance vegan butter, room temperature
3 ripe bananas
1 tablespoon non-dairy milk
2 cups unbleached all-purpose flour
1 teaspoon cinnamon
1 teaspoon baking powder
1 teaspoon baking soda
1 teaspoon kosher salt
Preheat the oven to 325°
Coat a 9x5-inch loaf pan with non-stick cooking spray.
In a small bowl, combine the ground chia seeds and cold water. Stir until smooth. The mixture will be thick and goopy (similar to an egg).
Cream the sugar and butter in a large mixing bowl until light and fluffy, 3 to 5 minutes on medium-high speed. Add the chia seed mixture. Continue mixing for 1 to 2 minutes more.
In a small bowl, mash the bananas with a fork. Stir in the milk.
Whisk together the flour, cinnamon, baking powder, baking soda, and salt in another bowl.
Add the banana mixture to the creamed mixture and stir until combined.
Add the dry ingredients, mixing just until the flour disappears.
Pour the batter into the prepared pan and bake 1 hour to 1 hour 15 minutes, or until a toothpick inserted in the center comes out clean. (Loosely place a piece of foil over the top of the pan after 1 hour if extra baking time is needed).
Cool on a wire rack for 20 minutes. Shake pan gently to loosen, then remove the bread and cool completely before slicing.