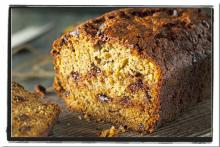 This chocolate chip banana bread is a delicious, almost cake-like, gluten-free bread. And we guarantee you're going to love it! It's easy to make and even easier to devour!
2 cups Bob's Red Mill Gluten-Free All-Purpose0 Baking Flour
2 teaspoons baking powder
2 teaspoons baking soda
1 teaspoon xanthan gum
1 teaspoon salt
1 1/2 teaspoon cinnamon
1/4 teaspoon nutmeg
1/2 cup canola oil
2/3 cup agave nectar
2/3 cup almond milk
1 teaspoon pure vanilla extract
1 1/3 cup very ripe mashed bananas
3/4 cup vegan dark or semi-sweet chocolate chips
Preheat the oven to 325° and lightly grease a 7 x 4 x 3-inch bread pan.
Combine the dry ingredients in a medium bowl. Add the oil, agave nectar, milk, and vanilla. Stir until the batter is smooth. Using a plastic spatula, fold in the bananas until just combined. Next, gently fold in the chocolate chips.
Fill the prepared pan halfway with batter. Bake for 45 to 50 minutes, or until a toothpick inserted in the middle comes out clean and the top springs back slightly when pressed.
Allow the banana bread to stand for 20 to 30 minutes. Next, run a knife around the edge to loosen, and then invert the loaf onto a cutting board, gently turning it right side up.
Serve warm or cold. Cover and store at room temperature for up to 3 days. Or refrigerate for up to 5 days.